CTAC
C

ELLULOSE

T

ECHNICAL

A

PPLICATION

C

ENTER

Established in October 2019, CTAC is a collaborative research center focused on HPC (hydroxypropyl cellulose).

The capabilities of the center include access to modern equipment, expertise in prototype creation, and experienced staff who can provide technical support. Projects focus on collaborating with customers to improve efficacy, usability, and functionality of their products in pharmaceutical, nutraceutical, and food applications.
Training Course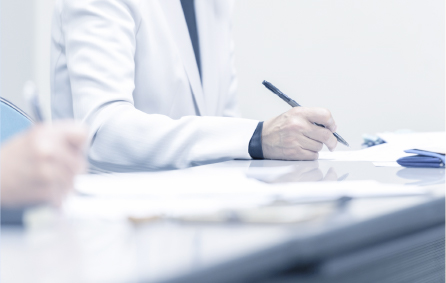 We offer a series of courses, ranging from the fundamentals to the application of formulation technology, that can be incorporated as a part of your employee training program. By combining the use of in-class seminars and equipment demonstrations we can help deepen your knowledge and understanding of NISSO HPC.
Click here to "Apply for a training course・Contact us"
(In-person) Experiment Course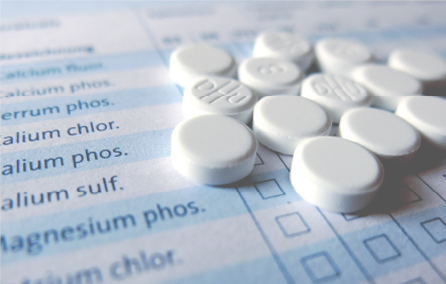 Technical Seminar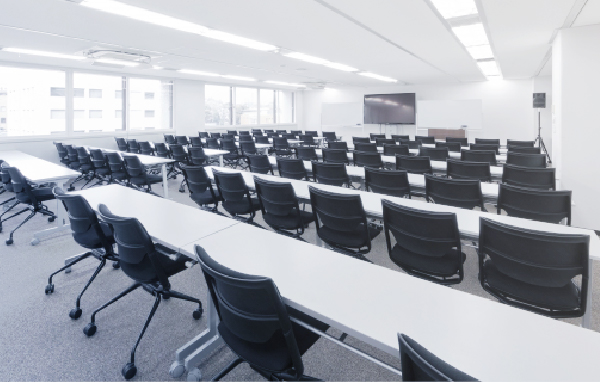 Technical Seminar (Webinar)
Choose from our series of courses, ranging from the fundamentals to the application of formulation technology. These seminars can be offered in-person or online and can be a part of your employee training program.
Click here to "Apply for seminars・Contact us"
Technical Data Download Documents
Conference posters, application data and technical seminar programs can be downloaded here.
CTAC Facility Overview
Available equipment・Equipment for Evaluating
CTAC(Cellulose Technical Application Center
Address
12-54 Goiminamikaigan, Ichihara City, Chiba Prefecture 290-0045
Available equipment
Granulators (High Share Granulation, Fluidized Bed Granulation, Roller Compaction, Twin-Screw Granulation), Hot Melt Extrusion, Spray Dryer, Coating Machine, Tableting Press, V-type mixer, Mill Scale: Up to 1 kg
Equipment for Evaluating Physical Properties of Powder

Powder Tester, Powder Rheometer, Particle Size Analyzer (Light Diffraction type, Image type, Sieve "low tap"), Moisture Analyzer, Equipment for Measuring Tablet Physical Characteristics
Hardness Tester, Friability Tester, Disintegration Time Tester, Dissolution test (for two liquids), Orally Disintegrating Tablet tester

Others

Electron Microscope, Optical Microscope, Viscometer (B type, E type, Vibration type, Rheometer)

Material Analyzers

※1

ICP-MS/OES, Powder X-ray Diffraction, Thin Film X-ray Diffraction, Solid/Liquid NMR, GC/MS, Scanning Electron Microscope (FE-SEM and EDS), XPS, DTA, TGA, DSC (temperature modulation), XRD-DSC

*1 : Equipment owned by Chiba Plant of the Nisso Chemical Analysis Service Co., Ltd., an affiliate company
Access
12-54 Goiminamikaigan, Ichihara City,
Chiba Prefecture 290-0045
In the Chiba Research Center
[ TEL ] 0436-23-2103
[ FAX ] 0436-23-2144
※Opens on October 1, 2019
[ By bus ]
・ About 60 minutes from Narita Airport
・ About 45 minutes from Haneda Airport
[ By train ]
・ About 60 minutes from Tokyo Station
・ About 95 minutes from Narita Airport
・ About 105 minutes from Haneda Airport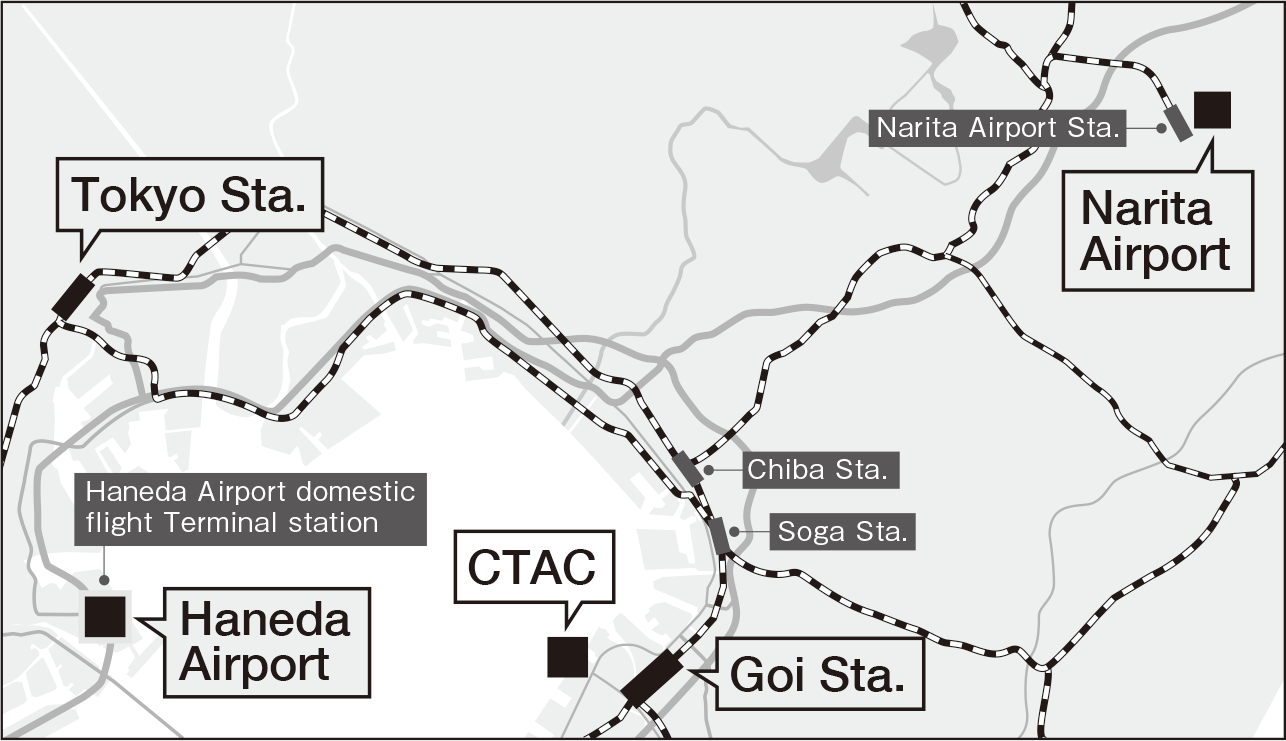 FAQ
Q 1.What is HPC made out of?
A.It is a white to yellowish powder made by reacting cellulose and propylene oxide (PO); the product of this reaction is hydroxypropyl cellulose (HPC).
Cellulose is insoluble in water, but by adding a hydroxypropyl cellulose group by reacting cellulose with PO, hydrogen bonding between hydroxyl groups in the cellulose is lessened, making it water-soluble.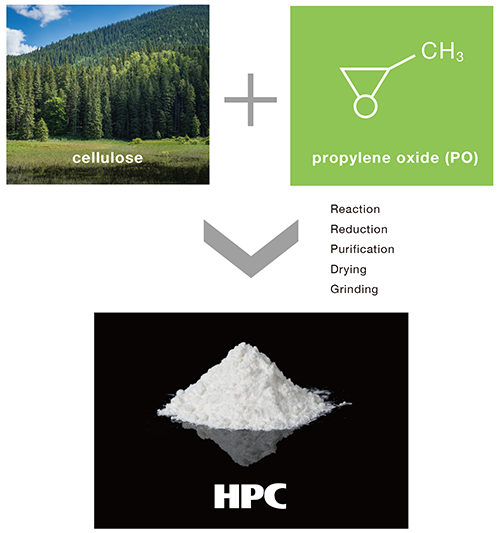 Q 2.What is its main application?
A.It is used as a binder for nutraceutical tablets / granulation.
It can be used in various production methods, such as fluidized bed granulation,dry granulation, direct compression, twin screw extrusion, and film coating.
It can also be used as a thickener for coatings.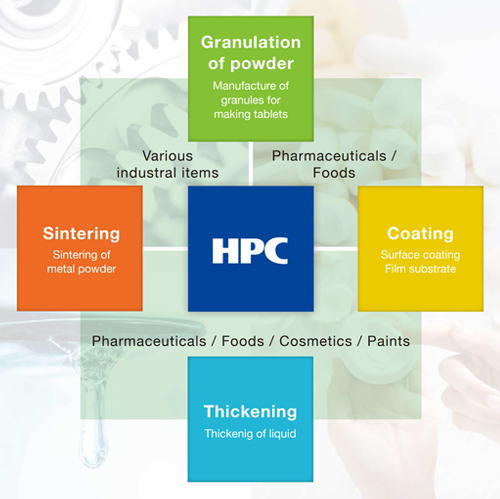 Q 3.What unique properties does HPC have?
A.It exhibits "thermal cohesion." HPC has a lower critical solution temperature (LCST) around 40-50℃ in water.
A solution of HPC becomes cloudy when heated above the "cloud point" (shown in the table below).
The viscosity will dramatically decrease.
This process is reversible, so when it is cooled down, it will return to its clear, colorless, high viscosity state.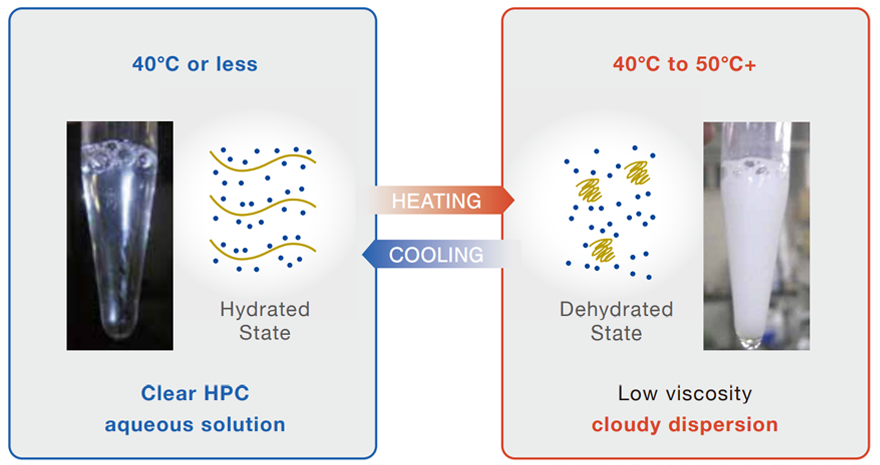 *High molecular weight grades like VH has a lower cloud point than other lower molecular weight grades like SSL.
Q 4.Is HPC compatible with various active ingredients?
A.Yes, HPC has broad compatibility.
HPC is non-ionic and pH independent, so it can be used with a wide variety of active/functional compounds.
It also has a low peroxide value and is suitable for actives that are sensitive to oxidization.
Q 5.In What solvents is HPC soluble?
A.It is fully soluble in water and polar organic solvents.
Water and alcohol can both be used as the solvent, so it is possible to select a solvent that is compatible with the characteristics of any active content.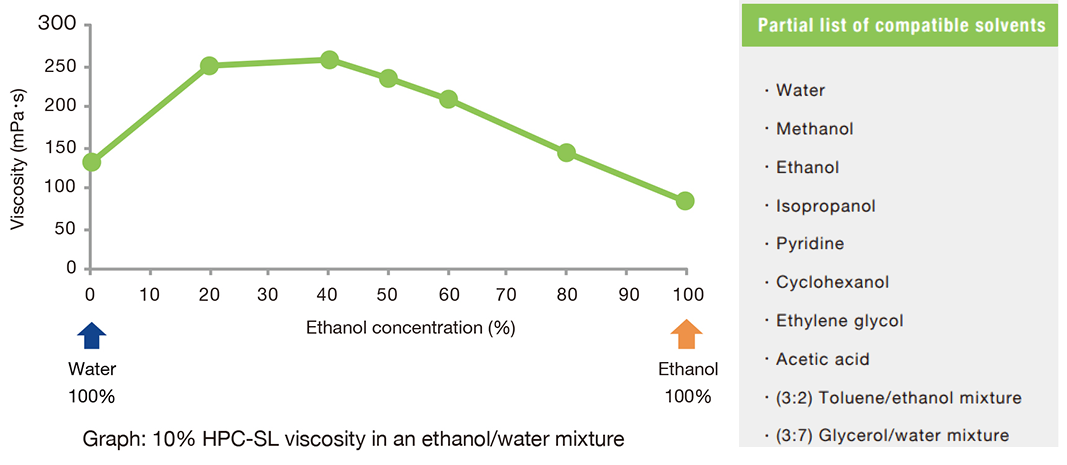 When dissolving HPC in a mixture of ethanol and water, it will have a higher viscosity than HPC dissolved in water alone. An ethanol concentration between 20-40% yields the maximum viscosity. (Refer to the graph below)
Q 6.How do you prepare a HPC solution?
A.Water or solvent should be stirred to create a vortex.
The dry HPC powder should be poured steadily into the vortex to create a dispersion. Once the powder is added, stirring speed can be reduced while HPC hydrates.
Q 7.Does HPC absorb moisture easily?
A.HPC has low moisture absorption.
HPC is less hygroscopic than other binders like HPMC and PVP.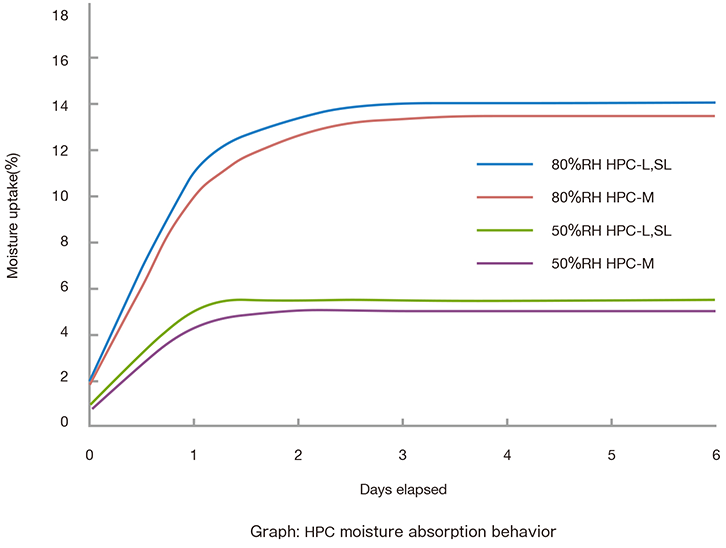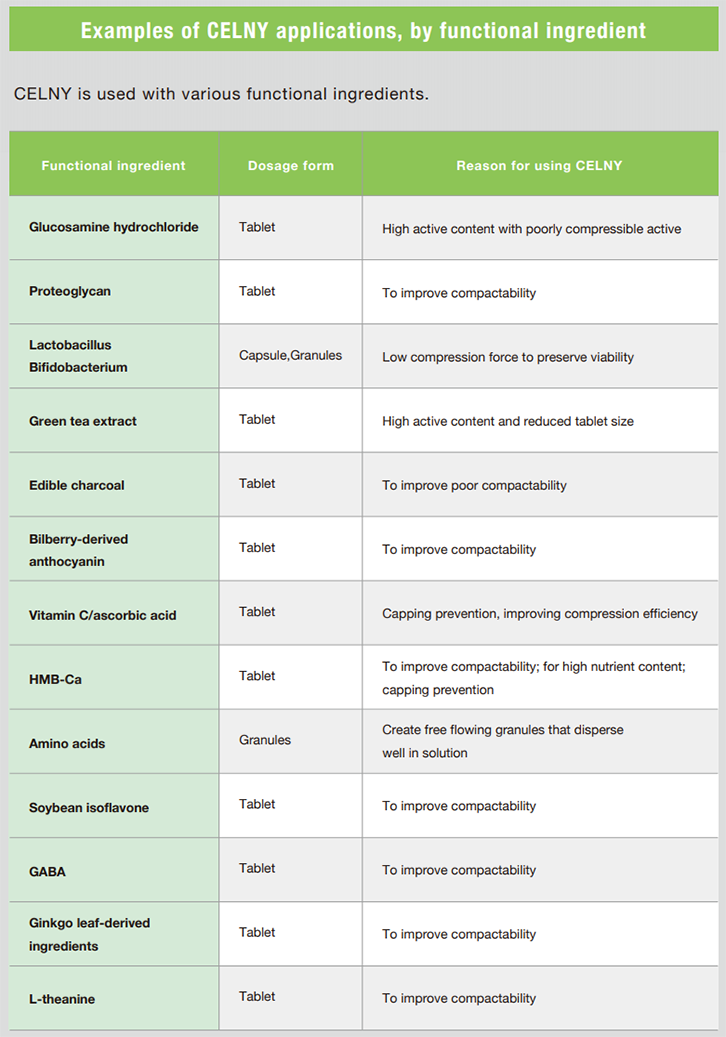 Q 8.Which particle size is best for making a solution?
A.Regular powder grades are recommended.
Regular powder grades hydrate slower than fine powders, so it is less likely to form lumps during dissolution.
Q 9.What is the trick to dissolving HPC?
A.It is important not to create lumps.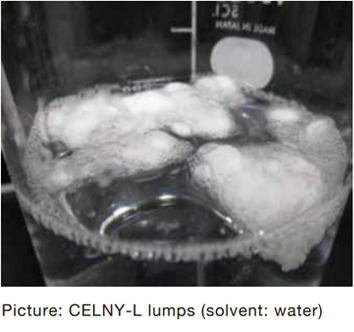 [Recommendation (1)]
When using room temperature water, stir the water thoroughly until a vortex forms, then add the HPC gradually.
This makes it possible to disperse the HPC quickly without forming large lumps.

[Recommendation (2)]
When blending highly concentrated or high viscosity HPC aqueous solution, use water with a temperature of 50℃ or above instead of room temperature water.
HPC disperses easily in hot water, regardless of the addition rate or product type, preventing the formation of lumps.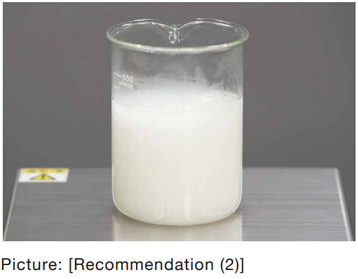 Q10.Is there a way to dissolve lumps that have already formed?
A.Once lumps form, it is difficult to dissolve them.
By heating it to above the cloud point, it will become easier to break apart lumps.(See Q3)
If lumps form, the only way to dissolve them is to keep mixing until the clumps dissolve.
Q11.How can I adjust the viscosity of a solution?
A.You can adjust a solution to your desired viscosity by changing the amount you add, or the grade you use.
Q12.How can I increase the tablet hardness?
A.Hardness increases proportionally to HPC addition rate.Fine and Super Fine grades are more efficient.
Addition of even 1% SSL SFP improves hardness.
Very poorly compressible actives might require up to 10% HPC.
Q13.How do I keep a fast disintegration time?
A.Low molecular weight grades like SSL have minimal impact on disintegration time.
Minimizing the amount of HPC in the formulation by using a high efficiency Super Fine Powder grade will enable fast disintegration.
Q14.How can I select the appropriate grade?
A.The table below summarizes recommended grades for different uses.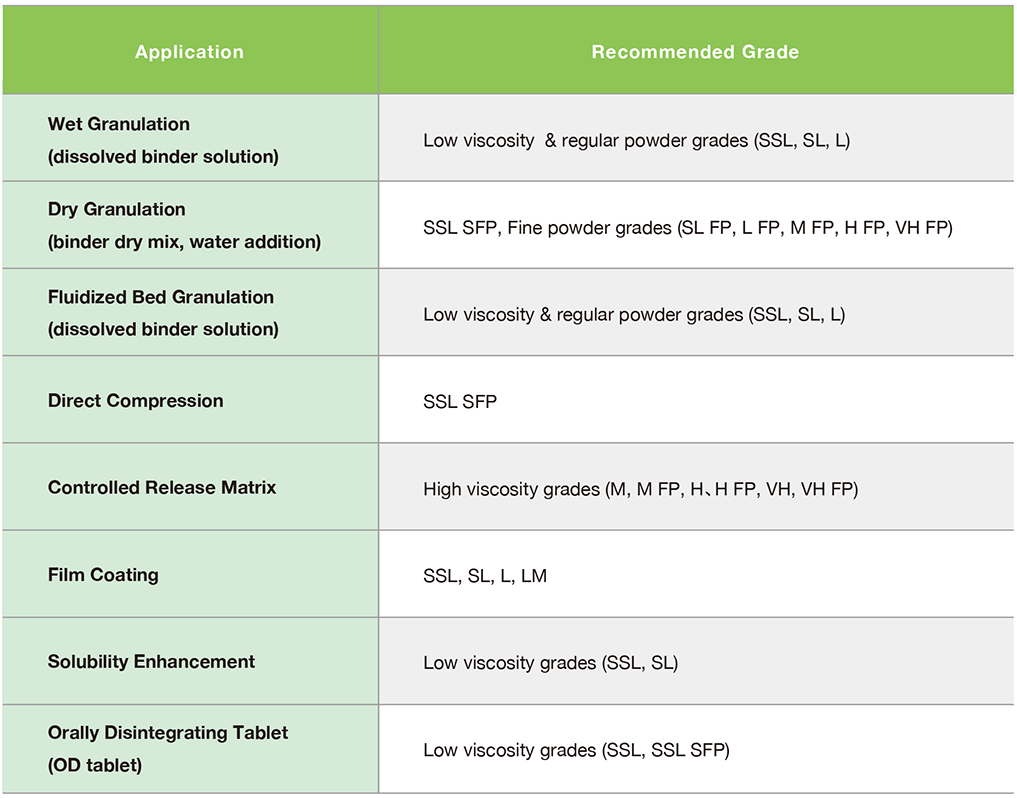 Q15.What is the role of a binder in granulation?
A.The binder causes agglomeration of the powders and improves compressibility of the granules during tableting.
HPC binder decreases the granulation time, reduces granule friability,
and increases the hardness of tablets made from the granules.

Q16.How should I add HPC during granulation?
A.It is possible to add it as either a powder or a solution.
Regular powder grades should be dissolved to use as a binder solution. Fine and Super Fine Powder grades can be dry mixed with other ingredients, and granulated with water or alcohol.
Q17.What if I am having trouble forming granules?
A.Increasing the molecular weight and viscosity of the binder solution causes more agglomeration.
Granulation occurs more readily, and tends to result in large granule size at higher viscosities.
It is also important to optimize the operation parameters of the granulation device.
Q18.Can a binder be used during granulation while heated?
A.It is recommended not to heat the binder,and to use it at a temperature below its cloud point.
If the solution reaches a temperature above its cloud point, thermal cohesion will occur, decreasing the viscosity of the solution, and thus it will not function as a binder.(See Q3)
Film Coating (as Plasticizer)
Q19.Can HPC be used as a coating?
A.Yes, it can be used as the primary polymer,or to modify HPMC-based coatings.
HPC can be used as a base for film coatings, or as a plasticizer.
When using it as a plasticizer for HPMC, HPC-SL is recommended.(See Q20-22)
Q20.What are the characteristics of films that use HPC as a plasticizer?
A.They have low water-vapor permeability and oxygen permeability.

Q21.How strong are films that use HPC as a plasticizer?
A.High strength films can be made.
Refer to the following table for details.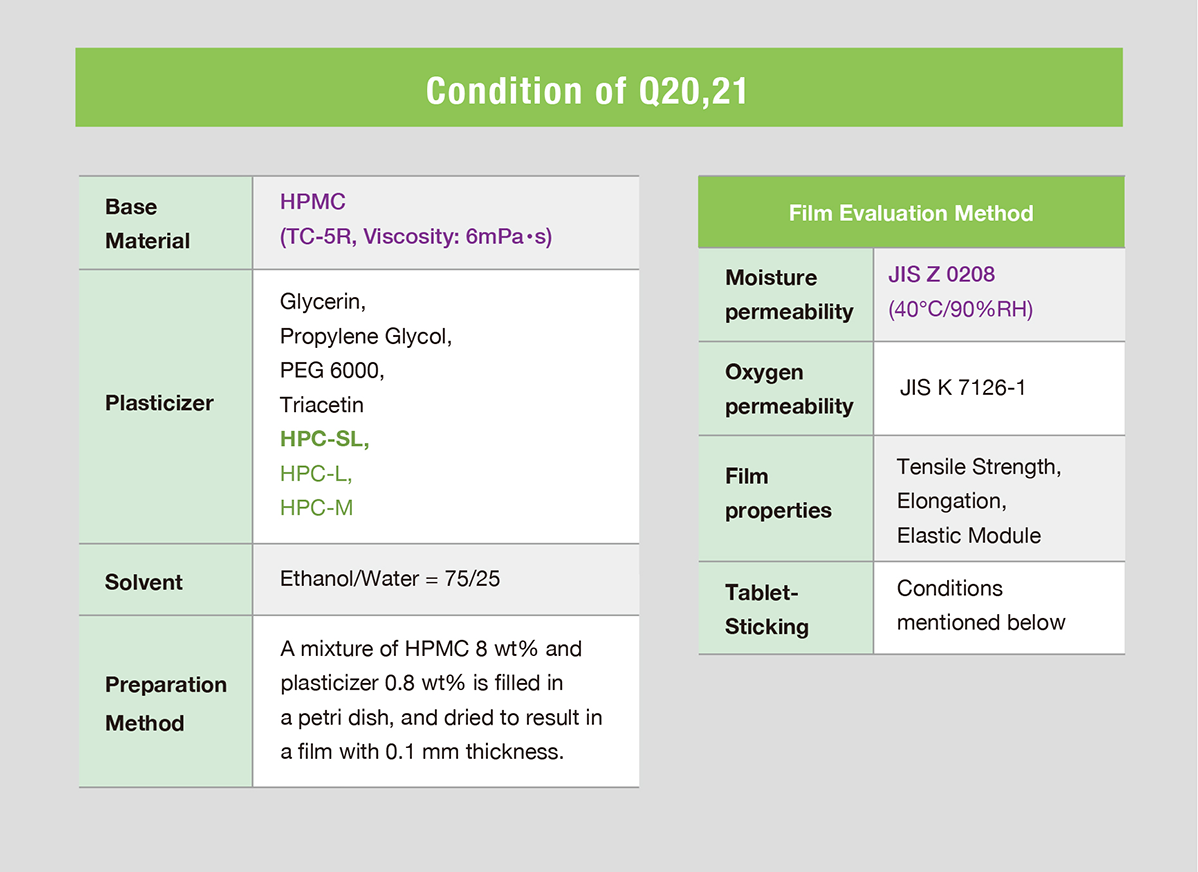 Q22.Are there any issues with the sticking of films that use HPC as a plasticizer?
A.Using HPC-SL as a plasticizer can reduce tablet sticking.

HPC-SSL SFP powder properties
Powder Properties of SFP
Q23.Why does HPC-SSL SFP have the highest binding strength of all HPC grades?
A.This is because it has the highest surface area to mass ratio.
HPC-SSL SFP has the lowest viscosity and smallest particles size of all HPC grades.
The surface area available for binding is approximately 6 times that of a standard granule product.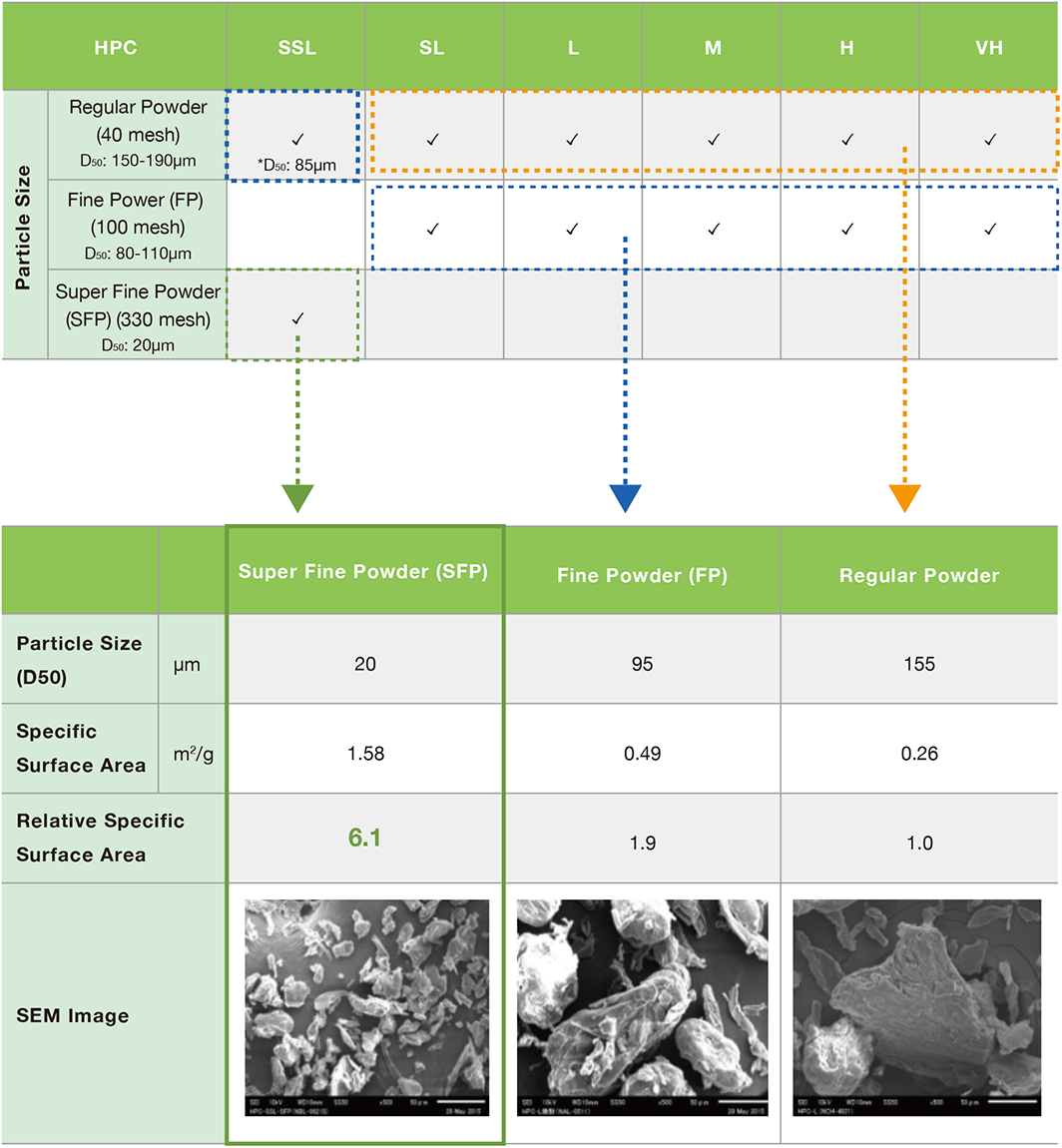 Q24.Are there any issues with flowability when using HPC-SSL SFP, which has an extremely small particles size?
A.Low addition rates of HPC have minimal impact on the flowability of the powder mixture.
We recommend adding only a small amount (2-5%) of HPC-SSL SFP for general direct compression, so the flowability of powder mixtures is dependent on the active ingredients and other ingredients.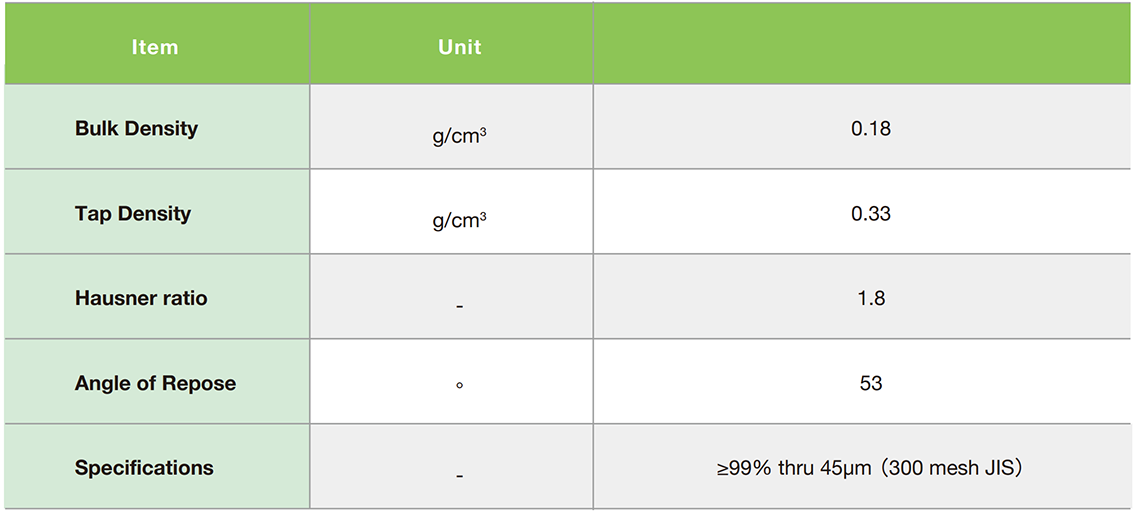 Q25.Is there a preferred filler for use with HPC-SSL SFP?
A.Lactose has better flowability than MCC when combined with HPC-SSL SFP.
HPC-SSL SFP up to 10% has better flowability with lactose than in a mixture with MCC. In this addition range, there are no significant impacts to flowability.


Equipment : FT4 Powder Rheometer
Materials : Lactose or MCC (90,94,97,100%), SSL SFP (10,6,3,0%)
External variables investigated : Compressibility、Consolidation、Aeration
■ 1I want to see more detailed data/information about HPC
A.Online seminar or in-house seminar
The topics below are available for technical seminars at your facility. Some of the seminars have been recorded for online viewing.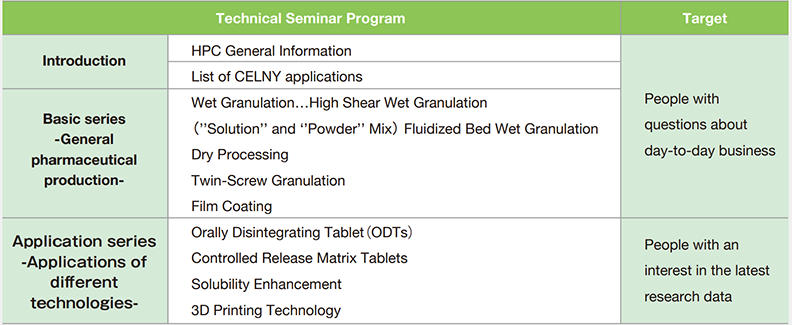 ■ 2Formulation investigation did not go well
A.Formulation design support
Please contact us for consultation on difficult formulations.
■ 3I want to see the actual equipment/instruments not a formulation proposal
A.Observing experiments/video responses
Customer specific formulations can be evaluated at CTAC with your raw ingredients.
If it is unfeasible to come in person, we can live stream or take a video of the experiments and return prototypes.
■ 4I would like samples or more information?
A.Visit our website
Please send a request from this web page.
Our staff will send you the requested samples or documents.
We have two sizes of sample: 100g, and 1kg. (SFP only has one size:500g)
Also, you can look over technical documents.