We are working on
diverse themes to create new value
through the power of chemistry.
NISSO HPC
NISSO HPC (Hydroxypropyl Cellulose) is a modified cellulose obtained by reacting propylene oxide with cellulose. The presence of hydroxypropoxy group prevents the hydrogen bonding between the hydroxy groups on the cellulose chain, thereby making HPC soluble.
NISSO HPC was first sold in Japan in 1969 and is globally approved for use in food product and as a pharmaceutical excipient. Nippon Soda has multiple manufacturing lines in Niigata, Japan which have been fully IPEC GMP compliant since 2010.
Main Applications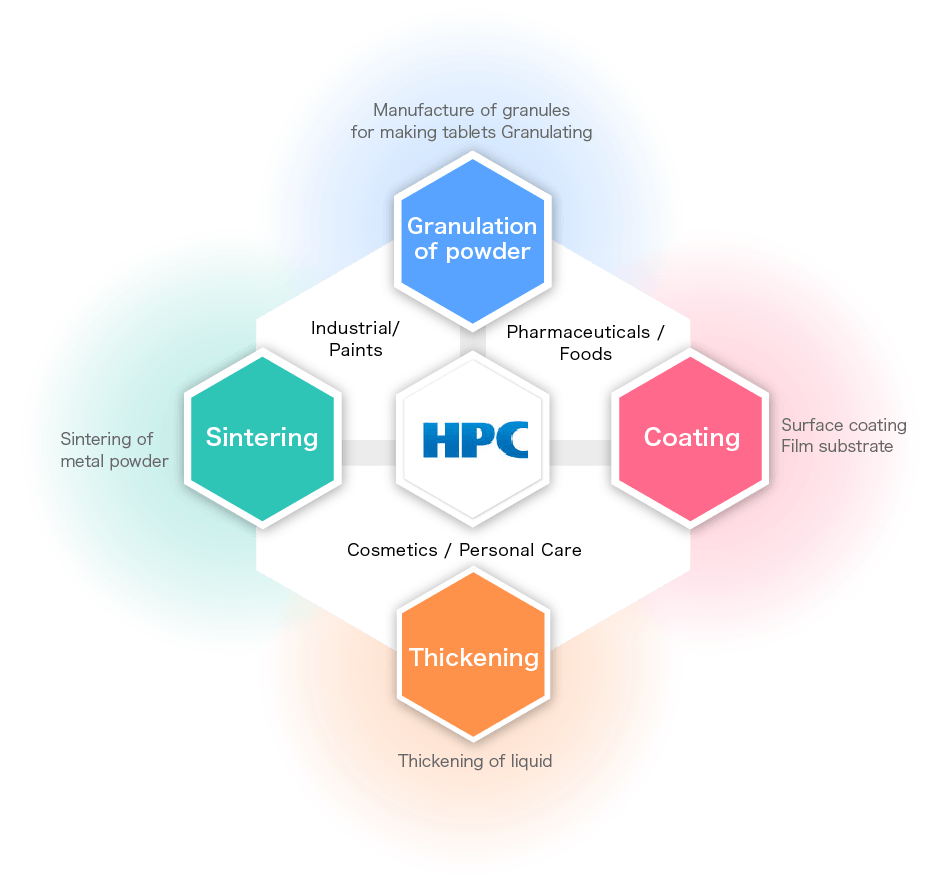 NEWS

TOPICS
Technical paper, new insights into the use of hydroxypropyl cellulose for drug solubility enhancement, published in Journal of Polymer Science has been uploaded.The paper is available for download.NEW

13th World Meeting on Pharmaceutics, Biopharmaceutics and Pharmaceutical TechnologyNEW

Rotterdam, The Netherland

March 28-31, 2022

PHARMSCI360(AAPS) 2021NEW

Pennsylvania Convention Center/Philadelphia, PA

October 17-20, 2021

NEW technical posters presented at PHAMASCI360(AAPS)2020 have been uploaded. The posters are available for download.

PHARMSCI 360 (AAPS) 2020

New Orleans, Louisiana

October 25 - 28, 2020

2020 Controlled Release Society & Exposition

Las Vegas, NV

June 27 – July 1, 2020

12th World Meeting on Pharmaceutics, Biopharmaceutics and Pharmaceutical Technology

Vienna, Austria

March 23-26 2020

CPhI worldwide

Frankfurt, Germany

November 5-7, 2019

PHARMSCI 360 (AAPS) 2019

San Antonio, Texas

November 3-6, 2019

CRS Annual Meeting & Exposition

Valencia, Spain

July 21-24, 2019